Senate Majority Leader Mitch McConnell faced criticism on social media for failing to act on gun control legislation after a shooting at a California high school Thursday that left two students dead and multiple others injured.
A 16-year-old gunman who police said opened fire at Saugus High School in Santa Clarita, California was custody Thursday afternoon, but few other details were available. However, people took to Twitter to blame the shooting on McConnell, claiming that it's possible the shooting could have been prevented if he helped facilitate the passing of gun control laws.
People expressed their distaste for the legislator using the hashtag "Massacre Mitch." As of 2:45 p.m. EST, nearly 12,000 tweets were published with the tag.
Some posted simple messages such as "Do something," and "Are you listening?" Others pointed to the background check bill that passed the House of Representatives in February but stalled in the Senate. The bill would require background checks for all firearm sales, including those between private parties.
In September, McConnell appeared on The Hugh Hewitt show and said he wouldn't bring a bill to the floor if he didn't know President Donald Trump would sign it.
"I said a few weeks ago that if the President took a position on a bill so that we knew we would actually be making a law and not just having serial votes, I would be happy to put it on the floor and the administration is in the process of studying what they are prepared to support if anything," McConnell said with regard to firearm legislation.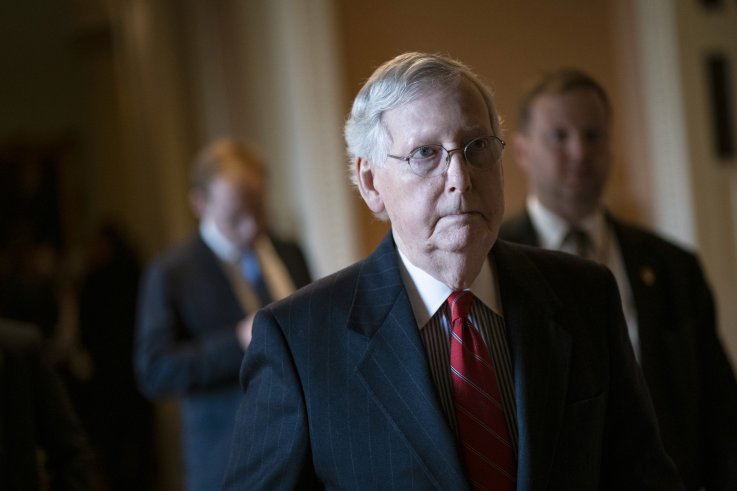 It's unclear what Trump would sign in terms of gun control legislation. At times, he expressed support for background checks and "red flag" laws, which enables officials to temporarily take firearms away from a person deemed a possible threat, but he's also said that background checks wouldn't have prevented certain mass shootings in the United States.
Los Angeles County Sheriff's Department Captain Kent Wegener said deputies found a .45 caliber semiautomatic pistol at the scene, after they responded to reports of shots fired around 7:38 a.m. PST. The suspect, identified as a 16-year-old male, was transported to the hospital where he is being treated for a self-inflicted gunshot wound.
The two who died were identified as a 14-year-old male and a 16-year-old female.
Neither McConnell nor Trump publicly posted on social media about the shooting by publication time.
Senator Kamala Harris, who is vying for Trump's seat in the Oval Office, wrote on Twitter that she was "heartbroken and praying" for Santa Clarita.
"Our children and communities are being terrorized. We can't accept this," she wrote.
Source: News Week USA